Lupita's Party Supplies
Piñatas of all kinds!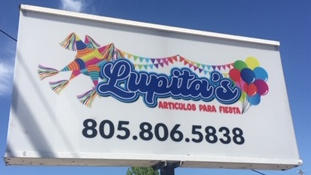 Pedro Diaz and Noemi Lopez
8575 El Camino Real
Atascadero, California
Lupita's Party Supplies is now making Candy Bars of all different kinds—for any occasion! For more information, please visit the store or call us at (805) 464-2585 or (805) 792-0472. We look forward to hearing from you!

Are you going to have a party? Well, come over to Lupita's Party Supplies. We have what you're looking for! From Piñatas of any kind Star, Figures, and Cake with different characters, to candy of different flavors, to Decorations for Birthday to Baby Shower. Anything needed for a Party—Lupita's Party Supplies has it! Come on in!

¿Vas a tener una fiesta? ¡Ven a Lupita's Party Supplies, tenemos lo que estás buscando! Desde Piñatas de todo tipo Estrella, Figuras y Pastel con diferentes personajes hasta Dulces Mexicanos de diferentes sabores. Decoraciones para Cumpleaños y Baby Shower. ¡Todo lo necesario para una fiesta, Lupita's Party Supplies lo tiene! ¡Te Esperamos!
| | |
| --- | --- |
| Monday | 10:30am – 7:30pm |
| Tuesday | 10:30am – 5:30pm |
| Wednesday | 10:30am – 7:30pm |
| Thursday | 10:30am – 7:30pm |
| Friday | 10:30am – 5:30pm |
| Saturday | 10:30am – 7:30pm |
| Sunday | 10:30am – 1:00pm |
Piñatas
Balloon Arches for Any Event (Arcos de Globos para Cualquier Evento)
Rental of Tables and Chairs (Renta de Mesas y Sillas)
Candy Bars for Any Occasion
Barras de Dulces para Cualquier Ocasión
Decoration of Candy Bars for Any Occasion
Decoracion de Mesas para Cualquier Ocasión
Gender-Reveal Parties
Productos de la Revelación de Sexo
Baby-Shower Products
Productos de la Fiesta de Bienvenida al Bebé
Table Covers Cubiertas de Mesa
Toys Juguetes
Sodas & Chips Refrescos & Papita Fritas